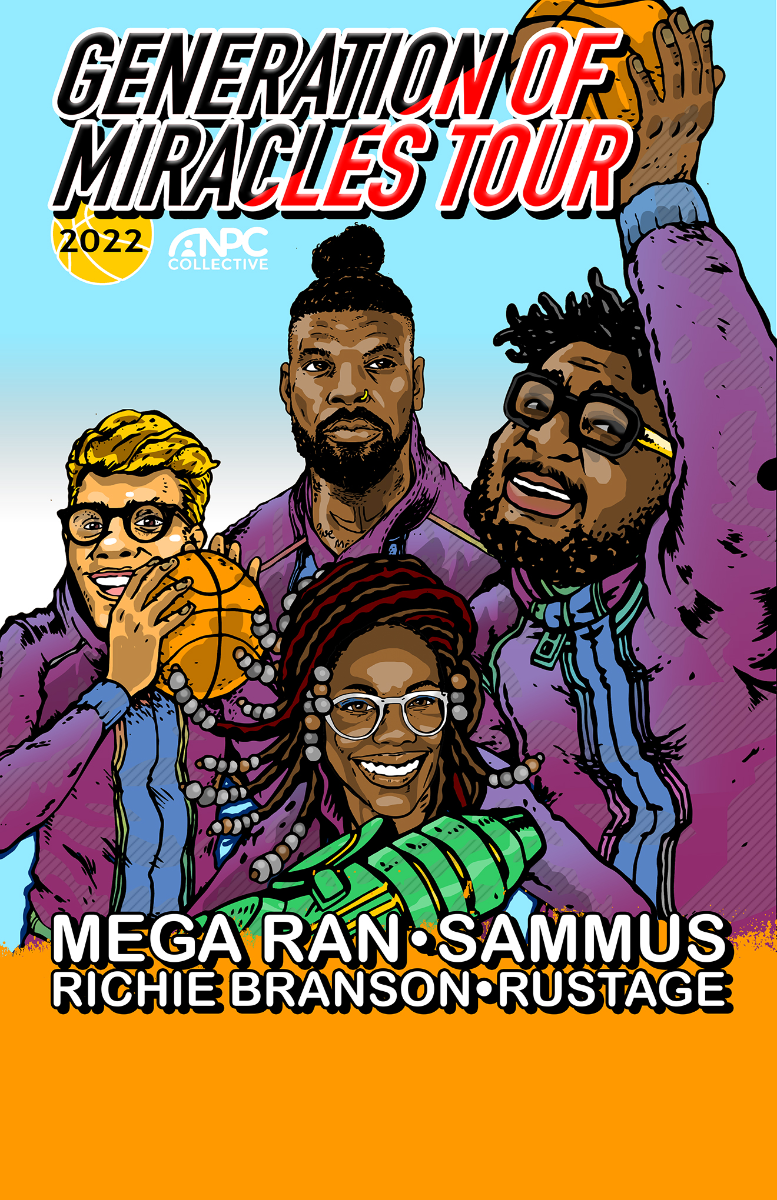 Mega Ran
with
Dante's
350 West Burnside Street, Portland, OR
Sun
May 15, 2022
Doors:

6:00 pm

/
SHOW:
6:30 pm
PDT
Ages 21 and Up
$20.00
MEGA RAN
With more than a decade of professional video game inspired music-making behind him, Teacher/Rapper/Hero Mega Ran has grown by leaps and bounds in early 2020's, as the celebrated rapper was able to seamlessly pivot to online content, interactive streams and has successfully transformed his style to adapt to the times. From his wildly successful run with his own web show Random House Studios to releasing his first book "Dream Master" while getting partnered on Twitch as an interactive video game music DJ and content creator, Ran somehow found time to release a Billboard-charting album "Live 95" and achieve career highs in streams and overall reach. He ended the year making his first official journey into the WWE Universe, providing the entrance music for the 2021 King of the Ring, accomplished wrestler Xavier Woods. Mega Ran continues to lead the pack with innovative releases and approaches with no sign of a slowdown in sight.

SAMMUS
(Enongo Lumumba-Kasongo) is a Black-feminist-rap-artist and -producer from Ithaca, NY with a PhD in science and technology studies from Cornell University. She is currently a postdoctoral fellow at Brown University in the music department teaching classes on rap songwriting and feminist sound studies as well as a member of the steering committee for Brown's science, technology, and society program. Since 2019 she has served as the Director of Audio at Glow Up Games, the first ever women-of-color led game studio. In the summer of 2020 she became a member of theKEEPERS, a Hip Hop collective that is currently developing the most comprehensive digital archive to map the international contributions of women and girls across Hip Hop's 50-year history.

RUSTAGE
Rustage is a London based Nerdcore Rapper & Producer. Rustage has covered a wide array of anime over the years through his music, including Naruto, My Hero Academia, One Piece & DragonBall, and in doing so he has garnered over 1 Million subscribers on his YouTube Channel. As well as doing Anime-related rap content for youtube Rustage's Recent personal Album "Overflow" Charted #14 in the US Hip-Hop Charts. Rustage's music is full of upbeat fun, mixing the sound of London grime with various styles of rap music across the internet. Adding his own nerdy flair as the cherry on top. Unapologetically himself, You can find Rustage on Spotify, Itunes or wherever you listen to your music.