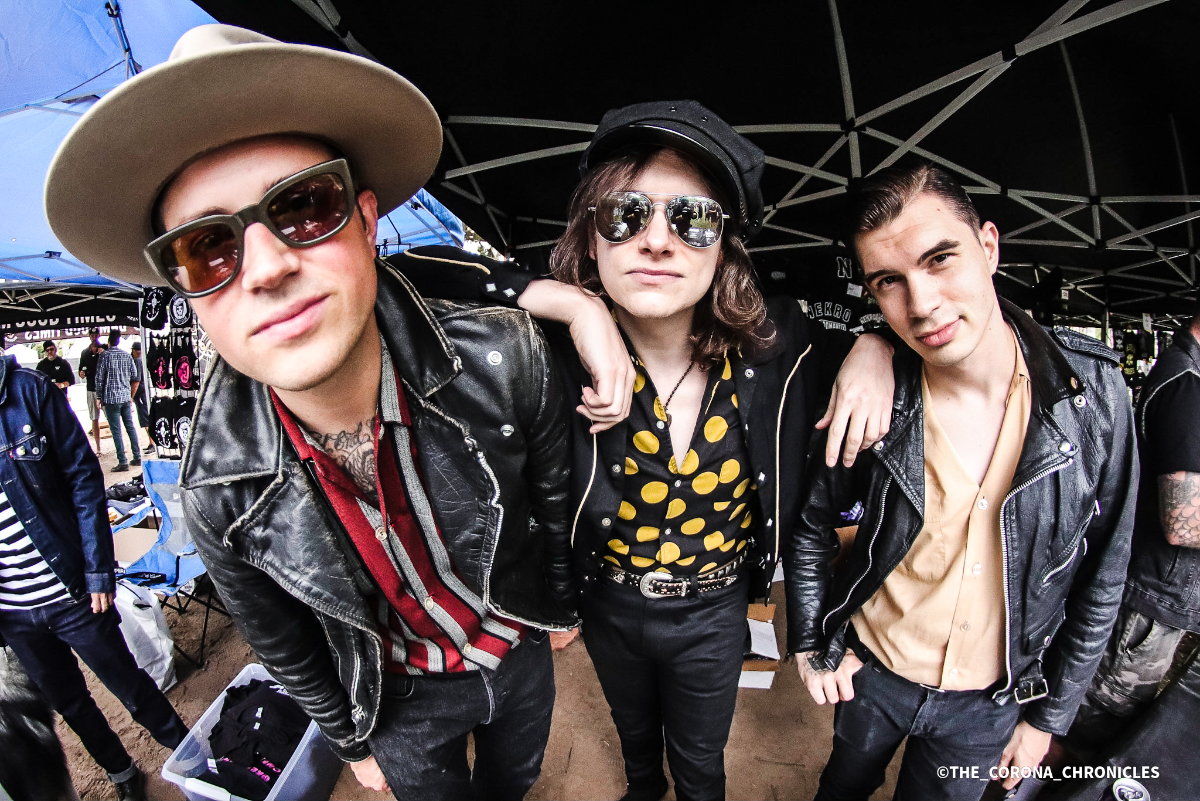 Reckless Ones
with
Dante's
350 West Burnside Street, Portland, OR
Sun
October 30, 2022
Doors:

7:00 pm

/
SHOW:
7:30 pm
PDT
Ages 21 and Up
$15.00
Note: Ticket holders receive free admission to Dante's Sinferno Cabaret directly following the show!

After more than ten years of operating between the Midwest and the West Coast, Reckless Ones has finally found a home in Los Angeles. For Reckless Ones, the road has always seemed to lead west, but that road has been a long and winding one.
Reckless Ones has been a 100 percent DIY operation since forming in 2009 in Minneapolis. Founding members Kevin O'Leary, Dylan Patterson and Adam Boatright were not only the ones onstage electrifying audiences around the world with their unique sound, they were the road crew, the drivers, the muscle, the brains, and the heart of the entire operation. This band understands what it means to pay your dues. Read Less
In their time together, this three-man gang self-released four records; toured Europe, Russia and the United States multiple times; shared the stage with some of rock 'n' roll's living legends including Tiger Army, Imelda May, Lee Rocker, Nekromantix, Batmobile, Robert Gordon and Slim Jim Phantom; and accumulated 4.5 million views on Youtube. The band also received a song from Brian Setzer, "Mean Pickin' Mama," in 2012. The band's latest release, Forgive & Regret, marks a new era for the band. While their mix of vintage style and modern sounds remains just as engaging and as fresh as ever, the band has allowed the music to mature with them, resulting in an album that defies genre trappings and tropes, and stands on its own.
With the new album and new hometown comes a new lineup for Reckless Ones. Kevin O'Leary, vocals and guitar, continues to command attention as the dynamic frontman of the trio; Dylan Patterson, drums and vocals, lays down irresistible grooves and rhythms on his stripped-down kit, and newcomer Zander Griffith ties the sound together with his rollicking bass lines and melodic background vocals.
Reckless Ones are a rock 'n' roll band, plain and simple. Their sound is not some cookie-cutter creation, their music is not intended for any one audience, but rather anyone seeking something honest in a phony world. And in a time like this, who doesn't want to hear some truth? Reckless Ones say what they mean, they mean what they say, and they put a backbeat to it. See if they don't make you tap your toes.
Reckless Ones
Reckless Ones are rock 'n' roll, plain and simple. Just trying to make an honest statement in this phony world, their sound is from the heart and doesn't apologize for anything. They say what they mean, they mean what they say, and put a back-beat to it. As a three-man gang pitting themselves against the world, and doing it all since forming in early 2009, this Minneapolis band has paid its dues. They continue to be the muscle, brains, and heart of the whole operation.

Reckless Ones hit the ground running in 2009 with the vintage style and modern sound of their debut record, "Make Your Move." Following the album's release, the band took to the road -- in a big way. Touring extensively across much of the United States and as far as the UK, Reckless Ones gained themselves a reputation and loyal set of fans within their first year as a band. They wasted no time and began putting together their second record "Set the World on Fire," releasing it in September of 2010. The album's more mature sound brought in a new set of fans outside the rockabilly world. They continued to pick up steam and were invited back to Europe later that year to play shows in Finland, France and Spain. Gaining a new following and having much success on another European tour, Reckless Ones returned to The States only to find more success. During a nearly non-stop tour schedule in 2010 and 2011, Reckless Ones opened for acts such as Robert Gordon, Lee Rocker, Slim Jim Phantom, and Imelda May, headlined their own national tours, and went on a third European tour. The band continued to prove themselves and get their music heard, show by show, night after night. Last year ended on a high note when Reckless Ones was voted best rockabilly band of 2012 by Mpls. St. Paul Magazine.

Now, Reckless Ones are back out on the road with their new, self-titled album. Set for release in late spring of 2013, the record features a song gifted to Reckless Ones by famous rockabilly revivalist Brian Setzer. This song, along with five Reckless Ones originals, was recorded by Grammy, Juno, and ARIA award-nominated producer Mark Stockert at Underwood Recording Studios in Minneapolis. The new record showcases this little band's big ambition and even bigger sound. This is a band ready to fight for its dreams, willing to work for its goals, and able to rock any audience anywhere in the world. When your friends tell you that you missed an incredible show the other night, chances are they're talking about Reckless Ones.