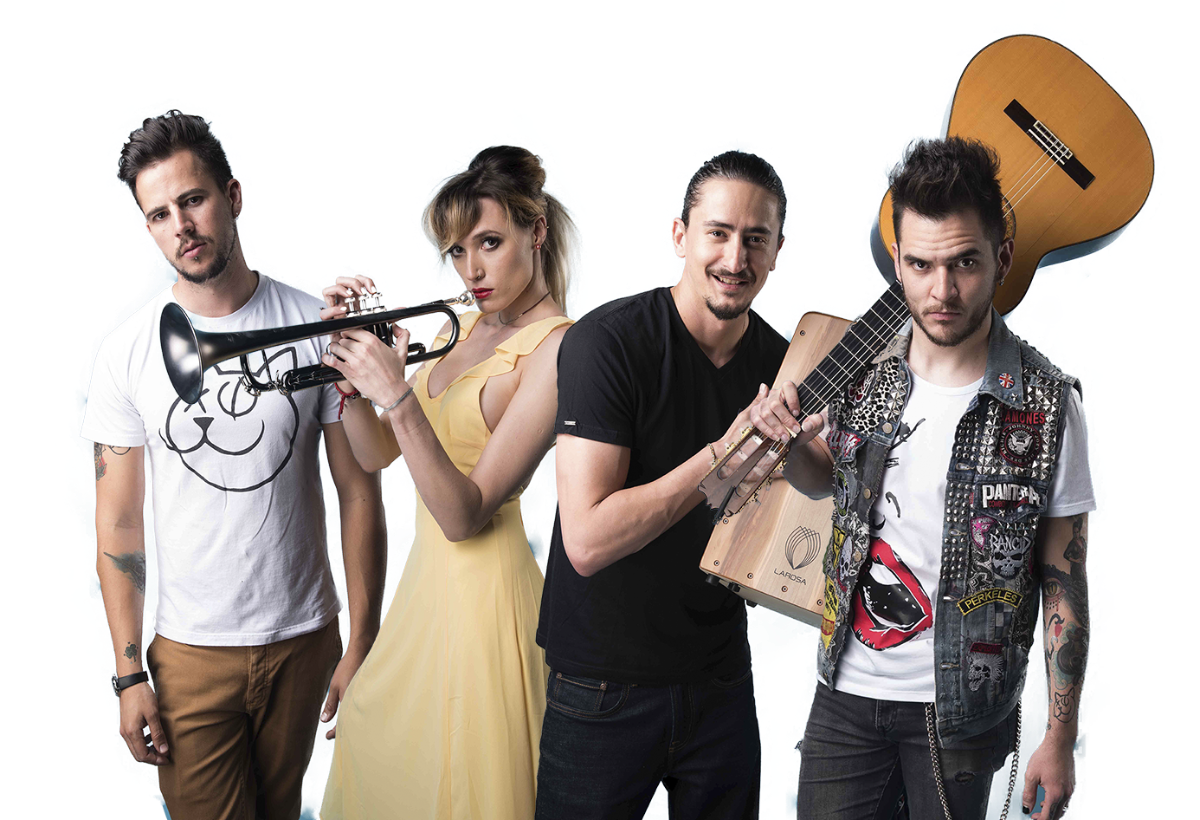 Jenny & The Mexicats
with Los Mal Hablados
Dante's
350 West Burnside Street, Portland, OR
Fri
November 10, 2023
Doors:

8:00 pm

/
SHOW:
9:00 pm
PST
Ages 21 and Up
$25.00
Jenny and the mexicats it's a fusion of nationalities and personalities, a band that has a very particular history. The band had its beginnings in Madrid as Pachucos y la princesa, in June 2008
It all started when Icho (double bass) invited Jenny to live in Madrid. Jenny in her 20s had come to the right place. Icho called the best guitarist he knew, Pantera a guitarist with very versatile flamenco technique, they had played together for many years in a rockabilly and punk band in their hometown in Mexico.
Pantera proposed a colleague that he played with in the world of flamenco and he played the cajon. David, an extraordinary Spanish cajon player. And that's how they all got together.
That's how a little adventure of an English girl started and gives rise to Jenny and the Mexicats.
Their first concert was Wonderland, a small festival that generates money to help cancer research in the UK, in August 2008. The roots that this new sound carried, made Jenny start to compose a lot and so Jenny and the Mexicats started to rehearse in the place where everyone had met ... a flamenco tablao, las carboneras.
Jenny & The Mexicats
Jenny began playing the trumpet aged 7 and began singing at 15, alongside teaching herself to play the guitar. Playing both in Jazz and Classical bands as well as orchestras most of her life, she had an ear and a love for music. A fusion of nationalities and personalities, the band's story is a little unusual and more of an accidental occurrence rather than a planned adventure. Jenny & The Mexicats began life as Pachucos y la Princesa in June 2008, when Jenny was invited to Spain by a Double Bass player (Icho) she'd met two years previously whilst touring in Madrid. In search of something new, Jenny fell right into place in Spain, decided she wanted to call it home and set about starting a band. Icho contacted the best guitar player he knew - Pantera, a flamenco guitarist, whom Icho had known all his life and shared previous bands with, including a a Rockabilly band in Spain. The closest thing to a drummer they could find was David, the Spanish Cajon player extraordinaire, whom Pantera had played with in a Flamenco band. Thrown together in the midst of an English girl's urge for adventure, Jenny & The Mexicats were born.
Their first gig was to be Wonderland, a small annual festival in the UK that raises money for cancer research, where Jenny had previously performed solo. .... Their musical roots had variety and spice and Jenny immediately fell in love with the combination of Flamenco, Acoustic Folk and Rockabilly and began writing constantly. They rehearsed nonstop for two months in the same Flamenco tablao they had met in, Jenny spoke no Spanish and David no English so it was left down to the universal love for creating music and some expert translating from the two Mexicans to bring it all together.
In England Jenny & The Mexicats created an immediate buzz and it was starting to look as though they may have stumbled across something special. They returned to Spain and continued in the same manner in which they had begun. They began booking more and more gigs and touring the whole of Spain. After a brief spell signed to an English record label Jenny and the Mexicats decided that in order to protect their sound and to be able to grow in a more natural way, they wanted to be independant and so Mexicat Records was born. In 2012 they moved to Mexico city and released their first album 'JENNY AND THE MEXICATS' which included a mix of English and Spanish songs. Some classics from the bands earlier days like Heaven knows and Starting Something, and had 3 hits on the radio, Verde Mas Alla, ME Voy a Ir and Flor. For high numbers sales, this independant band went Gold with their first album and just recently released their second album 'Ome' en autumn 2014. Ome is a fantastic fusion of rhythms, that varies from feel good dance-able songs to moments of sensitive and timeless musical expression. The nature of the instruments and way of composing of Jenny and the Mexicats opens a lot of doors to switch between genres and be able play whatever they feel in that moment and makes for some very fun live shows.
In Ome, the first single is Labios, a song chosen for the soundtrack of Amor de Mis Amores, directed by Manolo Caro. In Frenetico Ritmo and Boulevard they recorded Tuba, and you begin to notice a Mexican influence. J&TM covered a Mexican classic called No Dejes de Quererme and mixed English and Spanish in this version, that was so popular that they have just been invited to sing it with La Sonora Santanera in their latest material. The voice of David shines in Duele a Caminar, Labios and Boulevard and an essence of Inglaterra can truely be heard in Head in My Heart and Back to Basics. The latter of which Jenny recorded alone with her guitar. There is a song dedicated to the bands dogs, 'Sasha y Esteban' and included is 'Even it Out', a classic earlier song from the band that many wished to hear in their first record but was not recorded till the second.
The nature of their instrumentation and the style of music of Jenny and the Mexicats allows them to play from the biggest shows to the smallest shows.